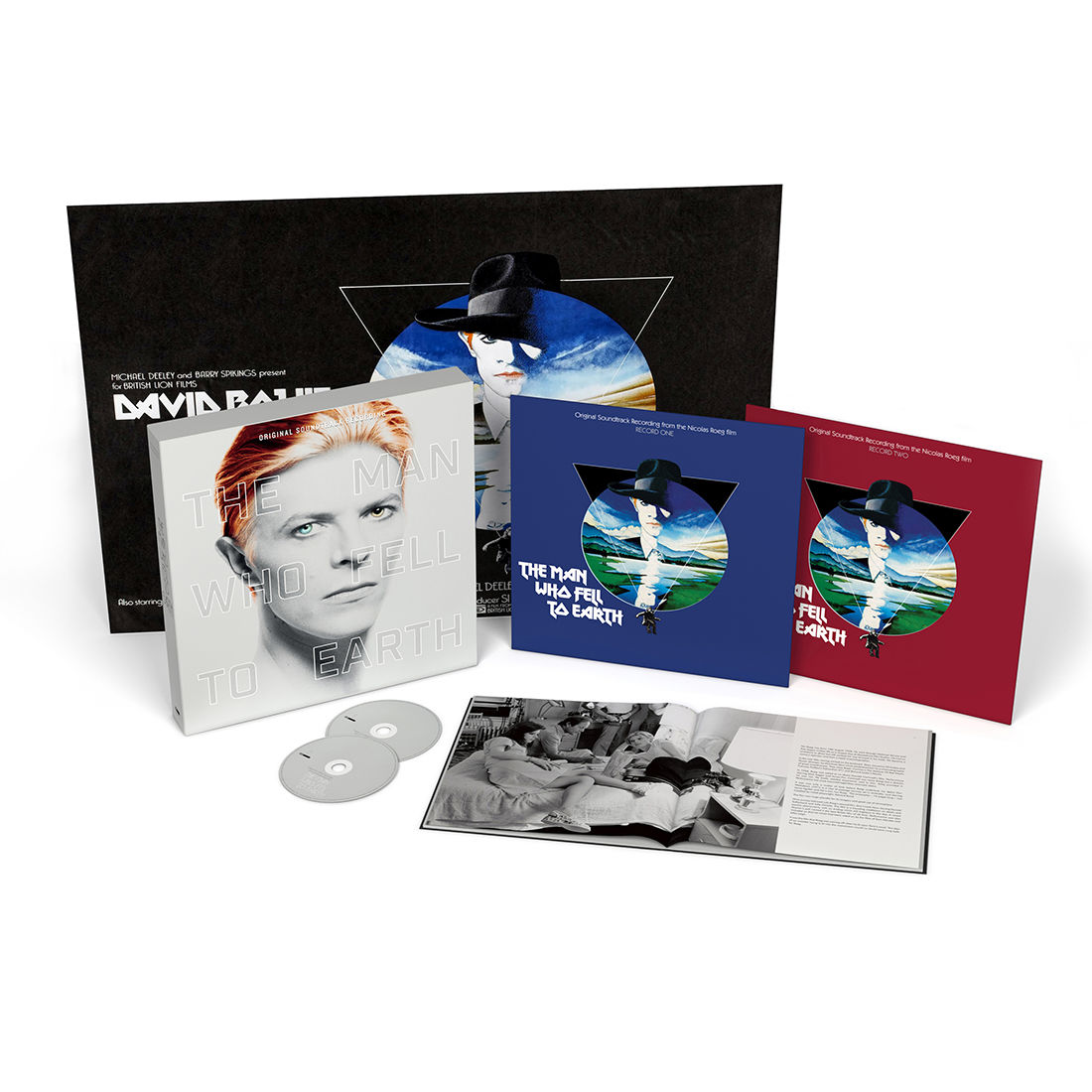 Artists: 
The Man Who Fell To Earth (Original Soundtrack): Deluxe Vinyl + CD Box Set
To celebrate the 40th anniversary of Nicolas Roeg's enigmatic, David Bowie film, comes the release of the original soundtrack. Previously unavailable in any form until now, the soundtrack contains seminal pieces by Stomu Yamash'ta and John Phillips, who composed specifically for the film. The film's score has always been highly celebrated and long sought after by fans but until now unavailable as a body of work: it can now finally be acknowledged in its own right.
Little is known, and much has been asked, as to why the soundtrack was never originally released. Due to lost tapes recently being uncovered it is now possible to present the original recordings, remastered on 2CD, 2LP gatefold 180GM vinyl and in this sumptuous dual format Deluxe Box featuring the CDs, the LPs, poster and a 48-page hardback book with rare photos, and a new essay about from respected music critic and biographer Paolo Hewitt.
Tracklist:
LP1
A1. Poker Dice - Stomu Yamashta
A2. Jazz II - John Phillips
A3. Boys From The South - John Phillips
A4. 33 1/3 - Stomu Yamashta
B1. Rhumba Boogie - John Phillips
B2. Mandala - Stomu Yamashta
B3. America - John Phillips
B4. Wind Words - Stomu Yamashta
B5. Jazz - John Phillips

LP2
C1. One Way - Stomu Yamashta
C2. Space Capsule - John Phillips
C3. Bluegrass Breakdown - John Phillips
C4. Desert Shack - John Phillips
C5. Memory Of Hiroshima - Stomu Yamashta
D1. Window - John Phillips
D2. Alberto - John Phillips
D3. Liar, Liar - John Phillips
D4. Hello Mary Lou - John Phillips
D5. The Man Who Fell To Earth - John Phillips

CD1
1. Poker Dice - Stomu Yamashta
2. Blueberry Hill - Louis Armstrong
3. Jazz II - John Phillips
4. Venus: The Bringer Of Peace - Bournemouth Symphony Orchestra
5. Boys From The South - John Phillips
6. 33 1/3 - Stomu Yamashta
7. Rhumba Boogie - John Phillips
8. Try To Remember - The Kingston Trio
9. Mandala - Stomu Yamashta
10. America - John Phillips
11. Wind Words - Stomu Yamashta
12. Jazz - John Phillips

CD2
1. One Way - Stomu Yamashta
2. Space Capsule - John Phillips
3. Bluegrass Breakdown - John Phillips
4. Desert Shack - John Phillips
5. Memory Of Hiroshima - Stomu Yamashta
6. Window - John Phillips
7. Alberto - John Phillips
8. Mars: The Bringer Of War - Bournemouth Symphony Orchestra
9. Liar, Liar - John Phillips
10. Hello Mary Lou - John Phillips
11. Silent Night - Robert Farnon
12. Love Is Coming Back - Genevieve Waite
13. The Man Who Fell To Earth - John Phillips
Formats:
Label: