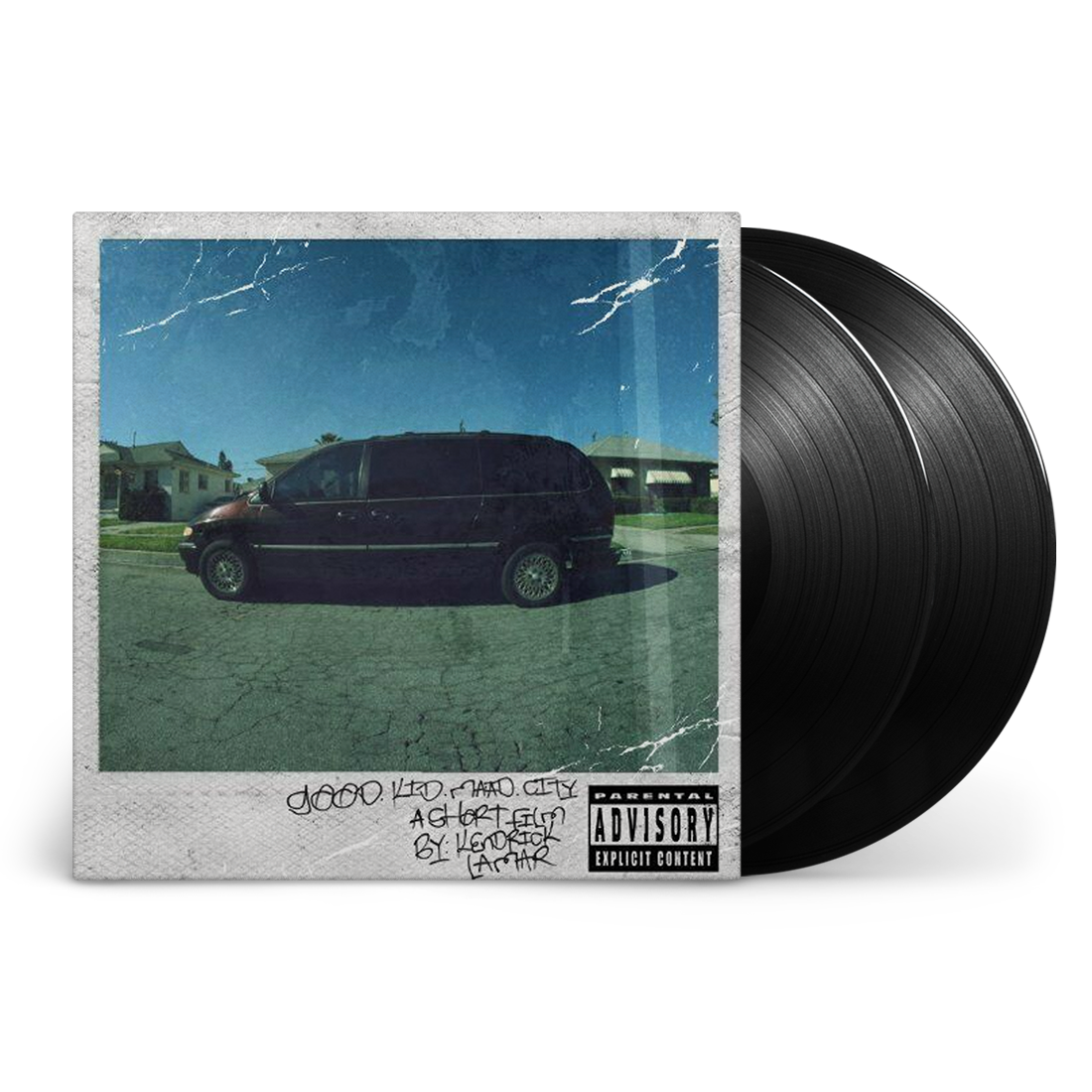 Artist: 
good kid, m.A.A.d city: Vinyl 2LP
Every so often an artist comes along who changes the musical landscape, an artist who brings something different to the game... Step forward Kendrick Lamar.
Hailed as the new face of West Coast Rap, the 24 yr-old Compton-native has already been making his mark on the music scene, first with his sought-after mixtapes – 'Training Day' and 'C4'. Then with his self-titled debut EP, 2009's 'Kendrick Lamar' which featured his trademark singles 'P&P' and 'She Needs Me', followed up by 2010's '(O)verly (D)edicated' powered by the singles 'Michael Jordan' and 'Cut You Off'. In 2011 he independently released 'Section. 80' becoming one of the top digital hip hop albums of the year.
Fast-forward to 2012 and with the weight and backing of Dr. Dre (the two recently had a joint XXL cover), Kendrick is ready to release his highly-anticipated major label album 'Good Kid, m.A.A.d City' out October 22nd through Top Dawg Entertainment/Aftermath Entertainment/Interscope Records.
Featuring the introspective woozy lead single 'Swimming Pools (Drank)', produced by T-Minus and mixed by Ali. The track has garnered positive reaction across blogs/radio including Zane Lowe's Record of The Week (playing it every night for two weeks), plus the video has topped over 3million views over a two week period.
'Swimming Pools (Drank)' serves as a good taster to his upcoming album 'Good Kid, m.A.A.d City' alongside the previously released warm-up single 'The Recipe' ft. Dr. Dre and the recently announced collaborative single with Lady Gaga called 'Partynauseous'. As well as scene stealing features alongside The Game, Drake, Rick Ross and others - Kendrick is poised to be the first artist in a long time to not only change how the country views West Coast Hip Hop, but how the world sees Hip Hop as a whole.
"The coolest s**t to say used to be the gangsta s**t," Kendrick says. "But now, the real cool shit to talk about is supporting your family."
Following on from Kendrick's electrifying performance at Coachella alongside Dr. Dre and the Tupac hologram, Kendrick played two sold-out shows at Camden's Electric Ballroom earlier this year showcasing why he's the name on everyone's lips.
There's a time for everything and now is definitely Kendrick's time.
Formats:
Label: