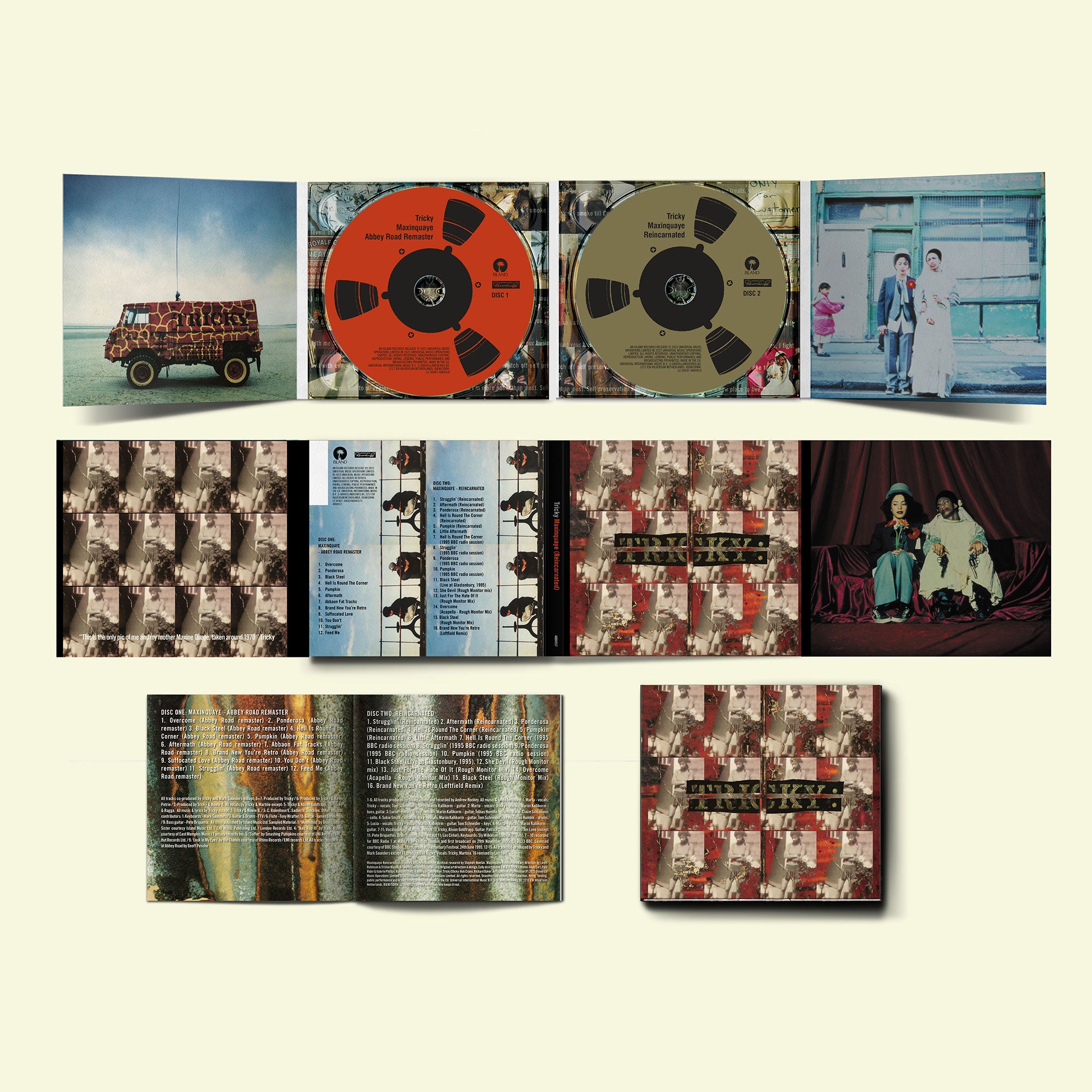 Artist: 
Maxinquaye (Reincarnated): Super Deluxe 2CD
The super deluxe reissue of Tricky's 'Maxinquaye', his debut album from 1995. The album has sold over half a million copies to date and always appears on authoritative lists of the greatest ever albums, including NME's "500 Greatest Albums List, Q's "List of the 100 Greatest British Albums", Mojo's "100 Modern Classics" and Rolling Stone's "Essential Recordings of the 90s".
This reissue is a welcome reappraisal of Tricky's seminal album as it approaches its 30th anniversary (2025). It features the original studio album remastered at Abbey Road, with the 3LP having the original album spread over 3 sides for the first time to get the best possible sound on wax, as well as 6 new Maxinquaye "Reincarnated" versions recorded by Tricky in 2022, and a previously unreleased BBC session of album tracks recorded with a full live band in the autumn of 1995.
Track list:
CD1
Overcome (Abbey Road remaster)
Ponderosa (Abbey Road remaster)
Black Steel (Abbey Road remaster)
Hell Is Round The Corner (Abbey Road remaster)
Pumpkin (Abbey Road remaster)
Aftermath (Abbey Road remaster)
Abbaon Fat Tracks (Abbey Road remaster)
Brand New You're Retro (Abbey Road remaster)
Suffocated Love (Abbey Road remaster)
You Don't (Abbey Road remaster)
Strugglin' (Abbey Road remaster)
Feed Me (Abbey Road remaster)
CD2
Strugglin' (Reincarnated)
Aftermath (Reincarnated)
Ponderosa (Reincarnated)
Hell is round the corner (Reincarnated)
Pumpkin (Reincarnated)
Little Aftermath
Hell Is Round The Corner (1995 BBC radio session)
Strugglin' (1995 BBC radio session)
Ponderosa (1995 BBC radio session)
Pumpkin (1995 BBC radio session)
Black Steel (Live at Glastonbury, 1995)
She Devil (Rough Monitor mix)
Just For The Hate Of It (Rough Monitor Mix)
Overcome (Acapella - Rough Monitor Mix)
Black Steel (Rough Monitor Mix)
Brand New You're Retro (Leftfield remix)
Formats:
Label: